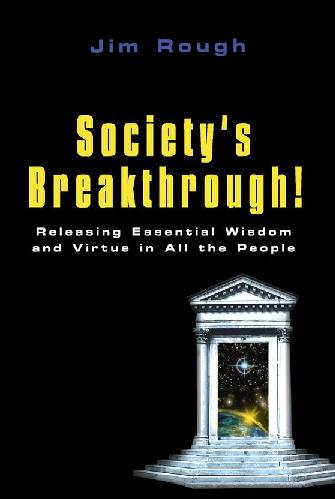 " Society's Breakthrough is the best compendium of insights and quotes I've ever read."
Bob Pratt
CEO of VOALA, Volunteers of America in Los Angeles

---
"... this is a seminal and important book ... it promises to generate and carry forward a whole new chapter in the dialogue of the common life."


Robert L. Powers
Distinguished Service Professor of Adlerian Studies in Culture and Personality

---
"This book is a masterpiece. It's shocking! It's stunning! . . . The whole book really flows and it all makes perfect sense." Cynthia Bost
Organizational Development Consultant
---
"Society's Breakthrough is a brilliant and highly inspiring book. (Jim is) a great 'American original' in the best American tradition; a man calling us to evolve to democracy. "
Gus Jaccaci, Founder of Unity Scholars
---
Publisher: AuthorHouse
ISBN: 0-7596-9168-1
Electronic edition: $4.95
Paperback edition: $14.50
Hardback edition: coming soon
259 pages
Also available at:
Amazon
Barnes and Noble